WEDDING MARQUEES
Marquees have a unique atmosphere and are perfect if you would like to hold the reception in your own garden or an outside venue of your choice.
Planning for a wedding marquee?
Telephone or email to arrange a free site visit where we can discuss your requirements in detail so that we ensure you get the perfect marquee for your wedding.
We are happy to work with you to ensure that the right decisions are made to fit your requirements:  the correct size to accommodate the proposed numbers, the layout and position of the marquee, heating and electrical equipment, tables & chairs, flooring, dance floor, access for catering staff -in fact anything that helps to make the set up of the marquee right for your event.
Please contact us if you would like to find out more about wedding marquees.
CORPORATE EVENT MARQUEES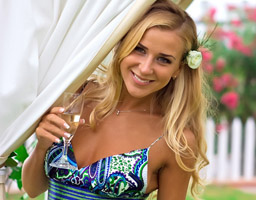 We provide marquees for a range of corporate events such as exhibitions, product launch, fun days and sporting occasions - and do it on time, on budget and without any fuss. To find out more about event marquee solutions call us on 01784 254705 We can supply marquees for the following events:
•    Parties and balls
•    Exhibitions and shows
•    Sporting hospitality tents
•    Promotional events
•    Product launches
•    Corporate anniversaries
•    Corporate fun days
•    Corporate games events
and many more.
PARTIES
Hiring a marquee gives you the flexibility to tailor the space to fit into awkward gardens and allow friends and family to be welcomed into your home for your personal event. Marquees can be large or small, L-shaped, square or rectangular.  Doors and windows can be positioned anywhere for maximum effect. Your approach will depend on the of sort event you are planning — for children or for a mixed age-group. We can advise you so that you get the right marquee for your event. Our marquees are predominantly white (we do hold a few that are green and white striped) and we can provide a range of linings to suit your theme and event. Check out our gallery section for ideas and examples of our party marquees